KV2 Audio » News » Wonderla in Hyderabad, India equipped with highly durable KV2 system
Wonderla in Hyderabad, India equipped with highly durable KV2 system
13/9/2016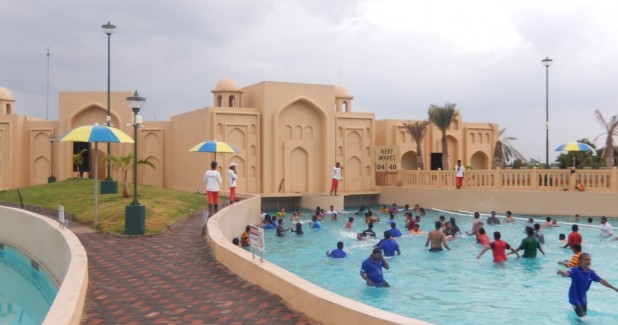 Entertaining visitors with its 43 thrilling rides, Wonderla in Hyderbad is fun for all the family. Whether your preference is wet and wild or a thrill-seeking rollercoaster, this adventure park has something on offer for everyone and to complete the immersive experience, the complex was in need of a highly durable sound system.
Local distributor, Cinetekk has plenty of experience in the audiovisual market with more than 40 years of experience in business - was approached and asked to design, specify and configure an audio solution for the wave pool at Wonderla. Not an easy task when you consider the wet environment coupled with the air humidity.
Measuring approximately 140ft by 350ft and having a capacity in the region of 800 people, the wave pool audio coverage required was vast. The Cinetekk team opted for a L-C-R set-up comprising three KV2 Audio ES1.0 three-way, very high output, active-driven, mid-high / mid-bass loudspeakers. Mounted on small poles dug into the ground, the three ES1.0 provide peak SPL of 139dB and have a throw of up to 40-metres for applications of up to 3,000 people, more than ample coverage for the wave pool.
Each one of the ES1.0's is supported by a KV2 Audio ES2.5 double 15-inch, high output subwoofer. Using new concepts in twin asymmetrical acoustic chambers allows the subwoofers to deliver very high speaker loading and intense output from a compact enclosure. Together with the ES1.0 and EPAK2500/R, the ES2.5's deliver a high dynamic range in comparison to similar systems, providing new levels of clarity, depth and resolution. Three KV2 Audio EPAK2500/R take care of powering and controlling the sound system by combining amplification and speaker management in one box. They also utilise KV2 Audio's industry leading 20MHz sampling for on board time alignment and phase correction of all components in the ES system.
As well as supplying the wave pool audio system, Cinetekk also kitted out the 1,200-capacity multipurpose auditorium at Wonderla with another KV2 Audio PA.
Source: Mondo India
Facebook Comments