KV2 Audio » Productos » SL Serie
SL Serie
Los nuevos altavoces SL412 y SL2.15 incorporan un diseño de gabinete atractivo, delgado y moderno, o internamente a las paredes y superficies, estas unidades pueden diseñarse con colores personalizados, rejillas protectoras y logos. Ofrecen un producto flexible de verdadera calidad de diseñador. Una sola pieza con múltiples ángulos fijos y puntos de enganche ofrece una solución rápida y rentable para opciones de suspensión simple.
Descripción
Con la tecnología VHD de KV2, el módulo SL412 usa componentes para frecuencias medias bajas 4 unidades de 12 pulgadas y también el respetado ensamble de bocina del VHD 1.0. Este tiene un único parlante de medios de 8 pulgadas y un driver de 3 pulgadas de formato grande NPVD. Esta bocina de media y alta frecuencia tiene una dispersión horizontal extremadamente coherente de más de 110°. Por su parte, la configuración de 12 pulgadas, específicamente diseñada, reduce notablemente el problema más común: los reflejos inmediatos dentro del rango de 300 a 800 Hz por lo general asociados a altavoces de amplia dispersión.
Como resultado final, el sonido se propaga de forma completa y amplia exactamente donde se lo requiere. El SL412 puede usarse con cualquiera de los tantos sistemas de subwoofer de KV2 según el uso concreto. Por su parte, el SL2.15 que lo acompaña usa el mismo diseño delgado para que pueda existir un sistema estéticamente agradable y de correcta reproducción de dinámicas, que además puede prácticamente desaparecer contra una pared. El SL2.15, de 2 x 15 pulgadas, está especialmente diseñado para producir la máxima respuesta de bajos desde su diseño de gabinete delgado. Se recomienda usar el SL2.15 con subwoofers de 18 o 21 pulgadas de KV2 para lograr una extensión de bajos profunda.
Características
Gabinetes delgados con perfiles discretos montables en paredes
La serie SL sigue la filosofía activa de KV2 Audio
Compacta y modular con toda la electrónica y amplificación alojadas separadamente en un módulo de amplificación SL3000 portable
Con menos de 300mm de profundidad, pueden instalarse contra una pared para reducir el espacio requerido en el suelo.
Case Studies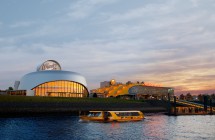 A multi-million investment, this theatre was specifically designed and built for future Stage Entertainment productions and initially showcased an exciting new show about Germany winning the 1954 World cup, called...
Leer más »