KV2 Audio » Productos » VHD Serie
VHD Serie
El sistema para giras VHD de alto rendimiento de KV2 Audio está diseñado para revolucionar el mercado del sonido de concierto. Ofrece calidad, poder y cobertura incomparables, y permite una drástica reducción en el costo del tamaño, peso, transporte, almacenamiento y tiempo de instalación.
La serie VHD desafía las tendencias populares de tecnología de arreglo lineal y construye sobre la filosofía de fuente puntual de KV2 Audio, lo que reduce drásticamente los niveles de distorsión y aumenta en gran medida el rango dinámico. Esto nos lleva a un nivel de reproducción de sonido completamente nuevo en sistemas de altavoces de gran escala. Los VHD reducen la cantidad de elementos necesarios para reforzar el sonido a gran escala en un área determinada. Así, los problemas de interferencia que se crean por las múltiples fuentes en los sistemas modernos de arreglo lineal desaparecen. La sincronización de los tiempos de cada altavoz y la corrección de las fases se hace a través de la nueva línea de retraso digital de 20MHz de KV2 Audio. Con el orgullo de tener la mayor frecuencia de muestreo entre todos los procesadores de altavoces digitales existentes, el procesamiento de señales híbridas integrado de KV2 usa la mejor tecnología digital y analógica para ofrecer definición y resolución increíbles con verdadero rango dinámico.
Descripción
En KV2 definimos al rango dinámico según la habilidad del sistema para reproducir las señales de bajo nivel asociadas a la atmósfera sonora y el timbre del sonido, así como las señales de alto nivel más importantes. El resultado final es un sonido más nítido y dinámico que viajará notablemente más lejos. Ofrecerá, además, audio de alta calidad que se verá mucho menos afectado por las fluctuaciones en el aire, la temperatura y las grandes multitudes.
Los gabinetes de media y alta frecuencia VHD1.0 y VHD2.0 con el amplificador VHD20000 son el corazón de esta solución, y constituyen el núcleo de nuestro sistema VHD. Para reforzar esto, tenemos los subwoofer VHD2.16, VHD4.18, VHD1.21 y VHD2.21, que son cuatro sistemas diferentes activos a través del módulo de amplificación VHD3200. Para facilitar su apilado, las bases de todos los altavoces (excepto del VHD2.21) son idénticas y tienen un sistema de enganche propio que ofrece una solución rápida y sencilla para colgarlos en el uso suspendido del sistema VHD.
El subwoofer doble VHD2.21, de aproximadamente 50cm, está diseñado para satisfacer la necesidad de un subwoofer de muy baja frecuencia y de alto rendimiento. Está pensado no solo para la música en vivo, sino que también se destaca en el campo de la música electrónica. Es sumamente efectivo en esta situación, ya que opera a menos de 25Hz junto con otros productos VHD y la serie menor ES. Incluso puede funcionar como un subwoofer autónomo increíble que puede complementarse con los sistemas de cualquier otro fabricante.
El sistema VHD representa la mejor tecnología disponible tanto en el mundo digital como analógico que ofrece KV2. A través de nuestra ingeniería líder en la industria, hemos logrado optimizar la relación entre altavoces y amplificadores para obtener un rendimiento excelente con pocos componentes. El resultado es especial, no solo algo diferente, sino mucho mejor. Cambiará tu opinión sobre las actuales tendencias de grandes sistemas.
VHD: audio de muy alta definición, la máxima expresión de la tecnología de KV2 Audio.
Características
Muy alta definición
Sistema para giras de alto rendimiento
Diseñada para revolucionar el mercado de sonido en vivo al ofrecer calidad, potencia y cobertura incomparables. Permite grandes ahorros en cuanto a tamaño, peso, transporte, almacenamiento y tiempo de instalación.
PDF
VHD5.0 Constant Power Source Array brochure - ENG
Q: I want to use more than one single VHD2.0 per side of the stage; can I place them together like an Array?
All KV2 Audio loudspeaker units are designed with low loss, low compression horn assemblies and are low'q'.
Their wide dispersion aspects mean that physical side by side 'arraying' is not the correct method or way to utilize the loudspeakers in application, primarily due to the interaction effects which cause poor phase response, frequency response and in-accurate dispersion.
It is entirely feasible to utilize a combination of two VHD2.0 enclosures, providing that they are located and placed as highlighted in the picture below.
Please refer to the 'Technology' tab or download Disarray-Theory

Q: Why are there different subwoofer settings on the VHD2000 amplifier? Should I use these depending on which subwoofers I use?
The VHD2000 control Amplifier is permanently 'pre-set' for the VHD2.0 mid hi enclosure, however because there are currently a choice of four different subwoofer units for different applications and with the potential to combine units so as to make a complete 4 or 5-way system, it is important to select the correct setting as denoted on the front Amplifier panel, as well as referring to the explanation and instructions within the VHD user guide.
These settings allow the correct and crucial sensitive integration of the designated subwoofers with regards to Crossover point, Phase response, and overall balance between the subwoofers and mid hi enclosures and tonal balance with regards to sound pressure level and output.
Can I use my existing VHD2.0 and VHD1.0 with he new Flybar system?
Yes, it is entirely possible to use existing VHD2.0, VHD2.15 & 2.16 with the new Flybar System incorporating pins instead of the Flyclip and Flytrack systems. However it is NOT POSSIBLE to use the older or existing VHD1.0 DOWNFILL units with the new Flybar System - (unless an existing VHD2.0 which has Flytrack in it being used, then the old VHD1.0 can still be attached with Flyclips), as it requires a Retro-Fit of new mechanical fittings which require that it be returned to the factory for the upgrade.
This upgrade is a customer FOC facility, if this is required, please contact your appropriate Area Sales Director for instructions.
Case Studies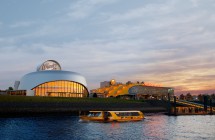 A multi-million investment, this theatre was specifically designed and built for future Stage Entertainment productions and initially showcased an exciting new show about Germany winning the 1954 World cup, called 'Das Musical WUNDER von BERN'.
Leer más »