EX Series
There are lots of powered speakers, but at KV2 Audio building an active speaker goes beyond bolting a Class D amplifier to the back of a box. We work towards creating the best technology in each distinct discipline, and then integrate each step into a powerful package within the context of a truly remarkable audio system.
The EX range represents the pinnacle in small format active technology available in the world today. The market has been flooded with active speakers since their popularity flourished in the late nineties. It was indeed KV2's founder George Krampera that led this revolution with the development of the ART range at RCF. George soon realized the true secret to active loudspeaker design was not just building powered speakers but developing amplifiers that are perfectly matched to the transducers so every component is optimized.
Description
Precisely selected amplifier topologies have been designed to deliver power through a unique LF amplifier for perfect control of the woofer, working alongside an HF amplifier implementing a discreet, classic class AB push-pull topology and a Intermodulation Distortion (IMD) restricting output transformer.
Our EX Subwoofers each use a version of our proprietary high efficiency, high current switching amplifiers delivering efficiency of over 90%. Both provide incredibly high quality bass performance and total flexibility from a standalone, small footprint cabinet. The perfect match with any of our full range cabinets or integrate perfectly into any third party passive or active speaker system.
Features
Specifically designed for high quality, high output multi-tasking, portable music playback and live performance in small to medium applications
Full range stand-alone solution or scalable to larger capabilities with subwoofers for large conference, meetings and small to medium performance venues
Multi-purpose fixed installations
Personal monitoring
Infill for larger main KV2 Audio systems
PDF
Super Live Audio Technology (SLA)
Q: I want to use more than one single EX10/EX12 per side of the stage; can I place them together like an Array?
All KV2 Audio loudspeaker units are designed with low loss, low compression horn assemblies and are low'q'.
Their wide dispersion aspects mean that physical side by side 'arraying' is not the correct method or way to utilize the loudspeakers in application, primarily due to the interaction effects which cause poor phase response, frequency response and in-accurate dispersion.
It is entirely feasible to utilize a combination of two EX10/EX12 enclosures, providing that they are located and placed as highlighted in the picture below.
Please refer to the 'Technology' tab or download Disarray-Theory

Can I use my existing EX2.5 or EX1.8 active subwoofer to add to an ES system consisting of either ES2.5/2.6 or ES1.8 subwoofers?
Yes, it is possible to use any of the EX Subwoofers as an extension, or addition to other KV2 product ranges, however it is important to recognize and understand that the phase of all the EX subwoofers is 'Opposite' to the ES subwoofers, so to use in a correct manner and to achieve the desired effect of 'addition', a reverse phase XLR connector will be required.
* Please note: If you are using the EX2.5 MkII, then you will need to add a single passive ES2.6 to maintain full output and balance of the system.
References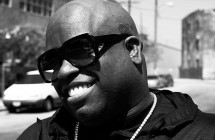 Grammy Award winning American singer-songwriter, rapper, record producer and actor, Cee Lo Green, travels everywhere with his KV2 Audio EX System. The EX10/EX2.2 system is used for writing, playback and recording....
Read more »