ESR Series
The ESR range has been developed for a particular niche in the market where an all in one box is needed to give clear detailed reproduction over a wide area. The ESR212 and 215 are three way full range enclosures with wide dispersion characteristics. They can be used vertically for theatre, church or cultural centre type installations or horizontally mounted to give excellent coverage over a tiered seating area for stadium or grandstand type applications.
Description
Similar to our popular ES range, the ESR cabinets are fully active and driven by a proprietary amplifier, which delivers equalized, and time aligned accurate signal to each of the components. Two ESR cabinets can be driven by a single ESR High Definition Amplifier, which houses all signal processing and amplification, as well as providing control for external subwoofer cabinet configurations if required.
In situations where extended bass response is not needed but full range high definition audio reproduction with extremely good coverage is required, the ESR Range offers an ideal solution. Economies of scale are achieved by the requirement of only one ESR amplifier to run a three way active stereo system where other systems would require processors and multiple amplifiers to achieve a similar configuration.
Features
Full range, wide dispersion speakers system
The ESR Series uses KV2 Audio's Active Driven philosophy
Incorporates Very High Definition and Super Analog with all the electronics and amplification housed in separate, rack mounted ESR amplifiers
ESR Speakers can be installed vertically or horizontally (ESR212) to cover applications like tiered seating areas in stadium or grandstands
PDF
Super Live Audio Technology (SLA)
Product code
KVV 987 322
Description
ESR212 Horizontal Bracket
Downloads
DWG
ESR212 Horizontal Bracket 3D DWG
SKP
ESR212 Horizontal Bracket SketchUp
Product code
KVV 987 291
Description
- for ESR212 flying - 3 pcs M10x35 included
1st position +5 degrees
2nd position 0
3rd position -5 degrees
4th position -10 degrees
5th position -15 degrees
Set of M10 x 50 closed end bolts for 6mm quick lock pin for ES1.0, ES1.5, ESR212, ESR215MkII, SL2.15, SL412
Gallery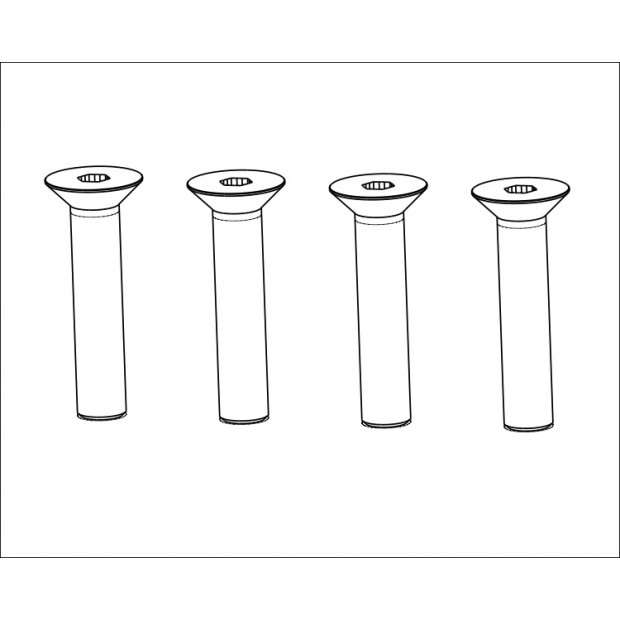 Product code
KVV 987 383
Description
These negate the requirement to remove and replace supplied enclosure bolts depending if attachments are fixed.
Downloads
DWG
Set of M10 x 50 closed end bolts for 6mm quick lock pin for ES1.0, ES1.5, ESR212, ESR215MkII, SL2.15, SL412 3D DWG
SKP
Set of M10 x 50 closed end bolts for 6mm quick lock pin for ES1.0, ES1.5, ESR212, ESR215MkII, SL2.15, SL412 SketchUp
Product code
KVV 987 321
Description
ESR215 Horizontal Bracket
Downloads
DWG
ESR215 Horizontal Bracket 3D DWG
SKP
ESR215 Horizontal Bracket SketchUp
Product code
KVV 987 292
Description
- for ESR215 flying - 3 pcs M10x35 included
Downloads
DWG
ESR215 Vertical Bracket 3D DWG
SKP
ESR215 Vertical Bracket SketchUp
Product code
KVV 987 050
Description
- female - cable mount
Product code
KVV 987 051
Description
- male - cable mount
Product code
KVV 987 047
Description
- consist of four high-quality Amphenol AP cable assemblies designed for use with ES Series - 2 pcs LF15 - 1pc LF40 - 1pc MH60
Product code
KVV 987 126
Description
- 6 wire speaker cable - AP6 connectors - 12m (40ft) length - for Mid/Hi Module hook-up
Product code
KVV 987 147
Description
- 6 wire speaker cable - AP6 connectors - 1,5m (5ft) length - for Mid/Hi Module connection - for VHD1.0 Mid/Hi Module daisy-chaining
Product code
KVV 987 127
Description
- 6 wire speaker cable - AP6 connectors - 18m (60ft) length - for Mid/Hi Module hook-up
Product code
KVV 987 125
Description
- 6 wire speaker cable - AP6 connectors - 6m (20ft) - for Mid/Hi Module hook-up
Product code
KVV 987 192
Description
- 2 pcs ARMS OF FB-0002
- 8 pcs M10 screws
- 8 pcs Quick-lock-pins 6mm included
Downloads
DWG
ES1.0, ES1.5, ES1.8, ES2.5, ES2.6 Bracket additional arms 3D DWG
SKP
ES1.0, ES1.5, ES1.8, ES2.5, ES2.6 Bracket additional arms SketchUp