VHD Series
The VHD High Performance Touring and Installation system from KV2 Audio has been designed to revolutionize the concert sound market by offering unparalleled quality, power, and coverage with huge cost savings in terms of size, weight, transportation, storage, and set up time.
Challenging the popular trend of line array technology, VHD builds on the KV2 Audio philosophy of point source theory, offering drastically reduced distortion levels and a hugely increased dynamic range that takes us to a new level of sound reproduction previously unheard in large-scale audio systems. VHD reduces the amount of elements needed to cover a particular area for large-scale sound reinforcement, thus removing the interference problems created by multiple sources in modern line array systems. Time alignment and phase correction is done via KV2's new 20MHz digital delay line. Boasting the highest sampling rate of any digital speaker processor available, KV2's on board hybrid signal processing uses the best in analog and digital technology to provide incredible definition and resolution with true dynamic range.
Description
At KV2 we define true dynamic range by the systems ability to produce the low level signals associated with the ambience and timbre of the sound as well as the main higher level signals. The end result is clearer more dynamic sound that will travel considerably further providing high quality audio that is far less effected by air disturbances through crowds, heat and wind.
The VHD1.0 and VHD2.0 Mid High cabinets, driven by a VHD2000 amplifier are at the heart of this solution forming the core of our VHD system. Reinforcing this are the VHD2.16, VHD4.18, VHD1.21 and VHD2.21, four very different active driven subwoofer systems powered by the VHD3200 amplifier. All speakers (except the VHD2.21) are based on identical footprints for easy stacking and proprietary flying system provides quick and easy rigging of VHD for suspended use.
The VHD2.21 Double 21 inch subwoofer has been designed in response to the call for a high output, ultra low frequency subwoofer solution. It is voiced for both live music but also excels in the field of club and dance music. In this situation it works very effectively, operating down to 25Hz, alongside other VHD products, the smaller ES range, or as an incredible stand-alone subwoofer that can complement any other manufacturers systems.
The VHD system represents KV2's embodiment of the very best available technology in both the analog and digital worlds. Through industry leading engineering, we have managed to optimise the amplifier and speaker relationship to achieve outstanding output with relatively few components. The result is something special, something not just different, but better. VHD will change your thinking towards current large format system trends.
VHD - Very High Definition audio, the pinnacle of KV2 Audio technology.
Features
Very High Definition
High Performance Touring and Installation system
Designed to revolutionize the Live Sound market by offering unparalleled quality, power, and coverage with huge cost savings in terms of size, weight, transportation, storage, and set up time
Q: I want to use more than one single VHD2.0 per side of the stage; can I place them together like an Array?
All KV2 Audio loudspeaker units are designed with low loss, low compression horn assemblies and are low'q'.
Their wide dispersion aspects mean that physical side by side 'arraying' is not the correct method or way to utilize the loudspeakers in application, primarily due to the interaction effects which cause poor phase response, frequency response and in-accurate dispersion.
It is entirely feasible to utilize a combination of two VHD2.0 enclosures, providing that they are located and placed as highlighted in the picture below.
Please refer to the 'Technology' tab or download Disarray-Theory

Q: Why are there different subwoofer settings on the VHD2000 amplifier? Should I use these depending on which subwoofers I use?
The VHD2000 control Amplifier is permanently 'pre-set' for the VHD2.0 mid hi enclosure, however because there are currently a choice of four different subwoofer units for different applications and with the potential to combine units so as to make a complete 4 or 5-way system, it is important to select the correct setting as denoted on the front Amplifier panel, as well as referring to the explanation and instructions within the VHD user guide.
These settings allow the correct and crucial sensitive integration of the designated subwoofers with regards to Crossover point, Phase response, and overall balance between the subwoofers and mid hi enclosures and tonal balance with regards to sound pressure level and output.
Can I use my existing VHD2.0 and VHD1.0 with he new Flybar system?
Yes, it is entirely possible to use existing VHD2.0, VHD2.15 & 2.16 with the new Flybar System incorporating pins instead of the Flyclip and Flytrack systems. However it is NOT POSSIBLE to use the older or existing VHD1.0 DOWNFILL units with the new Flybar System - (unless an existing VHD2.0 which has Flytrack in it being used, then the old VHD1.0 can still be attached with Flyclips), as it requires a Retro-Fit of new mechanical fittings which require that it be returned to the factory for the upgrade.
This upgrade is a customer FOC facility, if this is required, please contact your appropriate Area Sales Director for instructions.
Q: How to set up cardioid Sub patterns with ES and VHD systems?
The quickest route to understanding and applying cardioid sub patterns is to refer to the SDD3 user manual page 8 and 9. If you require further instructions please contact your local dealer.
Q: I own VHD4.21. Is it possible to use only one (active), double 21" speaker?
Yes, it is perfectly normal to operate the Active VHD4.21 as a standalone unit. However be aware that doing so doesn't attain the amplifier full power rating.
References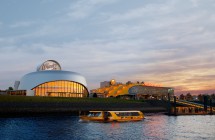 A multi-million investment, this theatre was specifically designed and built for future Stage Entertainment productions and initially showcased an exciting new show about Germany winning the 1954 World cup, called...
Read more »