KV2 Audio » Productos » EX Serie
EX Serie
Existen muchos altavoces potenciados, pero en KV2 Audio, construir un altavoz activo va más allá de colocar un amplificador clase D en la parte trasera de una caja. Trabajamos para crear la mejor tecnología en cada disciplina y luego integramos cada paso para crear un paquete sólido en el contexto de un sistema de audio sobresaliente.
La serie EX es la máxima expresión de la tecnología activa en formato pequeño que hay disponible hoy en el mundo. Los altavoces activos han inundado el mercado desde que su popularidad creció hacia el final de los años noventa. Fue el fundador de KV2, George Krampera, quien lideró esta revolución con el desarrollo de la serie ART en RCF. Pronto, George se percató de que el verdadero secreto de los diseños de altavoces activos no era simplemente construir cajas acústicas potenciadas, sino desarrollar amplificadores que se ajusten perfectamente a los transductores para que todos los componentes sean optimizados.
Descripción
Se han diseñado topologías cuidadosamente seleccionadas para ofrecer poder a través de un amplificador de baja frecuencia único para controlar el woofer completamente. Se trabaja junto a un amplificador alta frecuencia y se logra implementar una topología AB clásica y discreta, además de una Distorsión por Intermodulación (IMD) que restringe la potencia del transformador.
Cada uno de nuestros subwoofers EX usa una versión de nuestros amplificadores de conmutación actuales, que son especialmente diseñados y de alta eficiencia, la que excede el 90%. Ambos ofrecen una excelente calidad de reproducción de graves y flexibilidad total desde una caja acústica independiente en formato pequeño. Es el compañero perfecto para cualquiera de nuestros gabinetes de rango completo, o puede integrarse a cualquier otro sistema de altavoces, ya sea activo o pasivo.
Características
Diseñada específicamente para la alta calidad, para el alto rendimiento en múltiples tareas, para reproducción de música portable y para eventos en vivo pequeños y medianos.
Solución independiente de rango completo o escalable a mayores posibilidades con subwoofers para grandes conferencias, reuniones y espacios para espectáculos pequeños y medianos.
Instalaciones fijas multifuncionales
Monitoreo personal
Complementa sistemas principales más grandes de KV2 Audio
PDF
Joint User Guide for EX6, EX10, EX12, EX15, EX26 - English
PDF
EX Subwoofers User Guide - English
PDF
- User Guide for EX1.2 - english - REV.2
Q: I want to use more than one single EX10/EX12 per side of the stage; can I place them together like an Array?
All KV2 Audio loudspeaker units are designed with low loss, low compression horn assemblies and are low'q'.
Their wide dispersion aspects mean that physical side by side 'arraying' is not the correct method or way to utilize the loudspeakers in application, primarily due to the interaction effects which cause poor phase response, frequency response and in-accurate dispersion.
It is entirely feasible to utilize a combination of two EX10/EX12 enclosures, providing that they are located and placed as highlighted in the picture below.
Please refer to the 'Technology' tab or download Disarray-Theory

Can I use my existing EX2.5 or EX1.8 active subwoofer to add to an ES system consisting of either ES2.5/2.6 or ES1.8 subwoofers?
Yes, it is possible to use any of the EX Subwoofers as an extension, or addition to other KV2 product ranges, however it is important to recognize and understand that the phase of all the EX subwoofers is 'Opposite' to the ES subwoofers, so to use in a correct manner and to achieve the desired effect of 'addition', a reverse phase XLR connector will be required.
* Please note: If you are using the EX2.5 MkII, then you will need to add a single passive ES2.6 to maintain full output and balance of the system.
Case Studies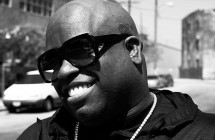 Grammy Award winning American singer-songwriter, rapper, record producer and actor, Cee Lo Green, travels everywhere with his KV2 Audio EX System. The EX10/EX2.2 system is used for writing, playback and recording. The system travels with Cee Lo in custom cases so he can remain prolific on the road.
Leer más »