For years people have enjoyed the superior audio quality of KV2's Super analogue amplifiers, however for certain applications where control was needed, they were forced to use other third party products, relying on basic digital electronics and DSP to give some control, which unfortunately also affected the sound.
Now, in another industry first from KV2 we are able to offer the highest quality Super Analogue engineering, with the added convenience of digital control and diagnostics.

Our new "D series" amplifiers give you the option to set up Gain, operate mutes, configure the limiters, or select filter, EQ and bridge modes depending on the model. Whilst the diagnostics section will give you information on the temperature of heatsinks, mains voltage, real time health checking and the output levels relative to limiting.
With our new KV2 Control & Diagnostics Tool you can also set all your amplifiers individually or as a group including saving and recalling presets or show files.
Featured Amplifiers with built-in KV2 Control & Diagnostics Tool
Overview of the main features
1. Redundant powering via PoE (power over ethernet)
2. Separate 32bit ARM diagnostics CPU core (independent of amplifier)
3. Independent diagnostic network inside amplifier for sensors / control
4. Rugged FRAM (Ferroelectric Random Access Memory) for configuration storage
Networking
Industry standard 100Mbit Ethernet connection with PoE (Neutik etherCON)
IPv4 addressing with options for static address, DHCP client or AutoIP
mDNS advertisement for network discovery
Web based administrative interface for IP and identification setting with online sensor data display for fast setup
KV2 diagnostic software as system management tool for easy remote diagnostic and control for venues where large number of amplifers are used
Support for Windows PC (MacOS or Linux versions on request)
SNMPv2 (Simple Network Managment Protocol)
standard diagnostic service for integration in existing systems
Sensors
Temperature of heatsinks
Overheat protection indication
Mains voltage sensing for each mains connection
Power good for each amplifier module (sensing all power rails)
PoE presence detection
Input signal indication
Output voltage and current sensing with approximate average impedance and power calculation, speaker detection
Realtime health checking – sensing equality of output signal to input
RMS limiter activity indication
Controls
Mute
Gain / Volume – high definition precision digitally controlled analog
Configurable RMS limiter functionality
Remote control of specific functions of the amplifier (depending on the model)
Bridge mode
Full range mode
LPF/HPF filters, specific EQ
Configurable via the front panel or remotely using our new Control and Diagnostics software, you can now have Superior Sound with total control.
Preview of KV2 Control & Diagnostics Tool

ESR3000D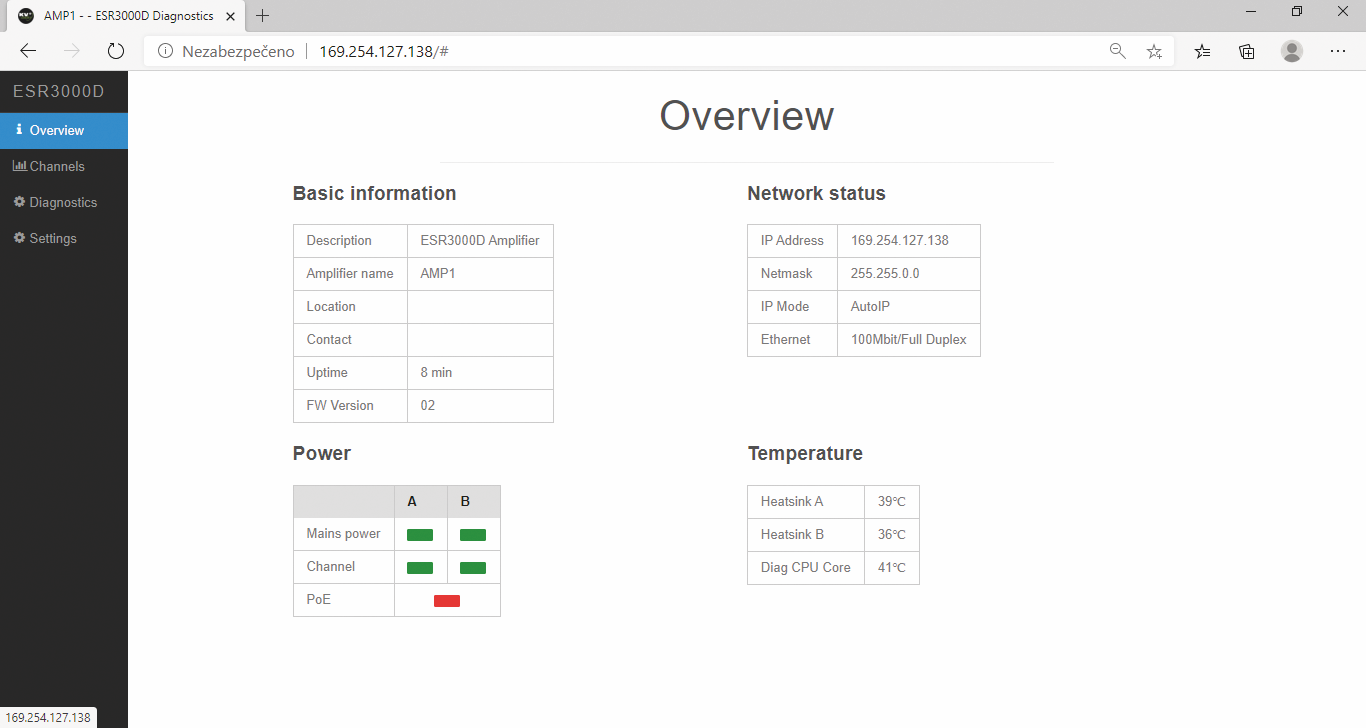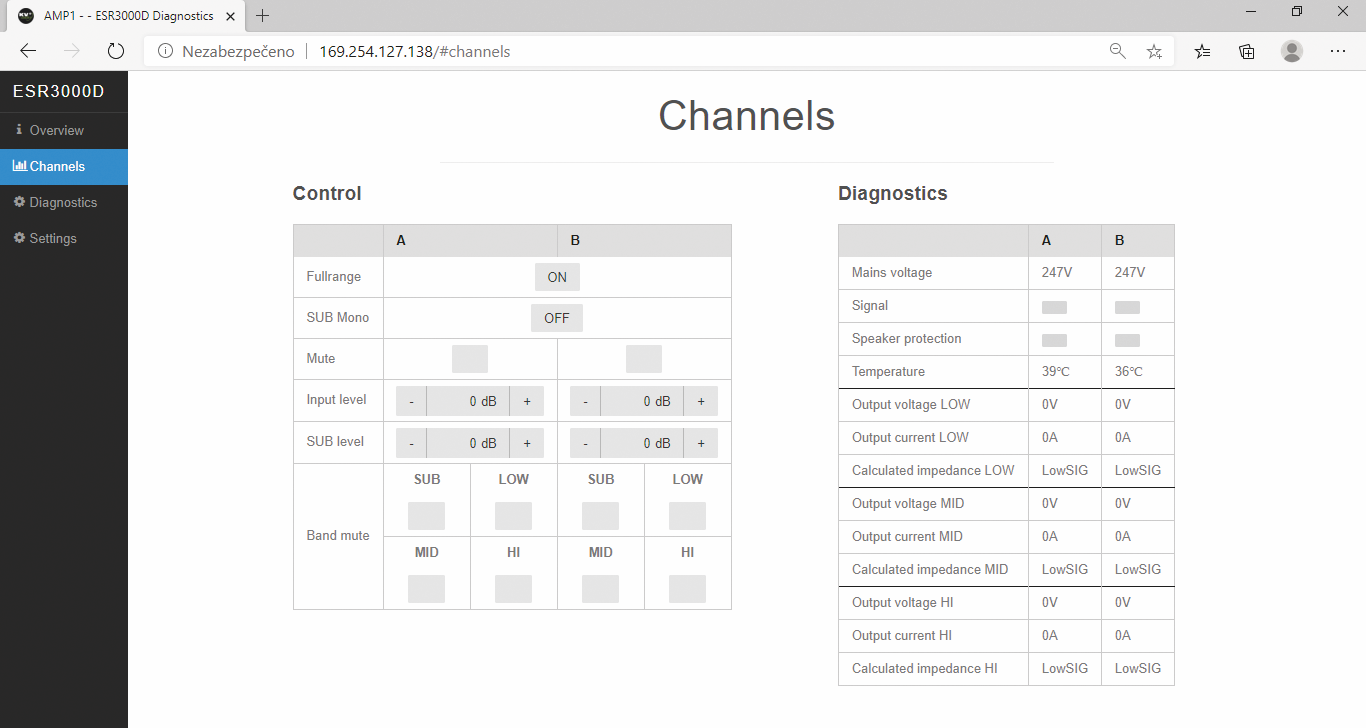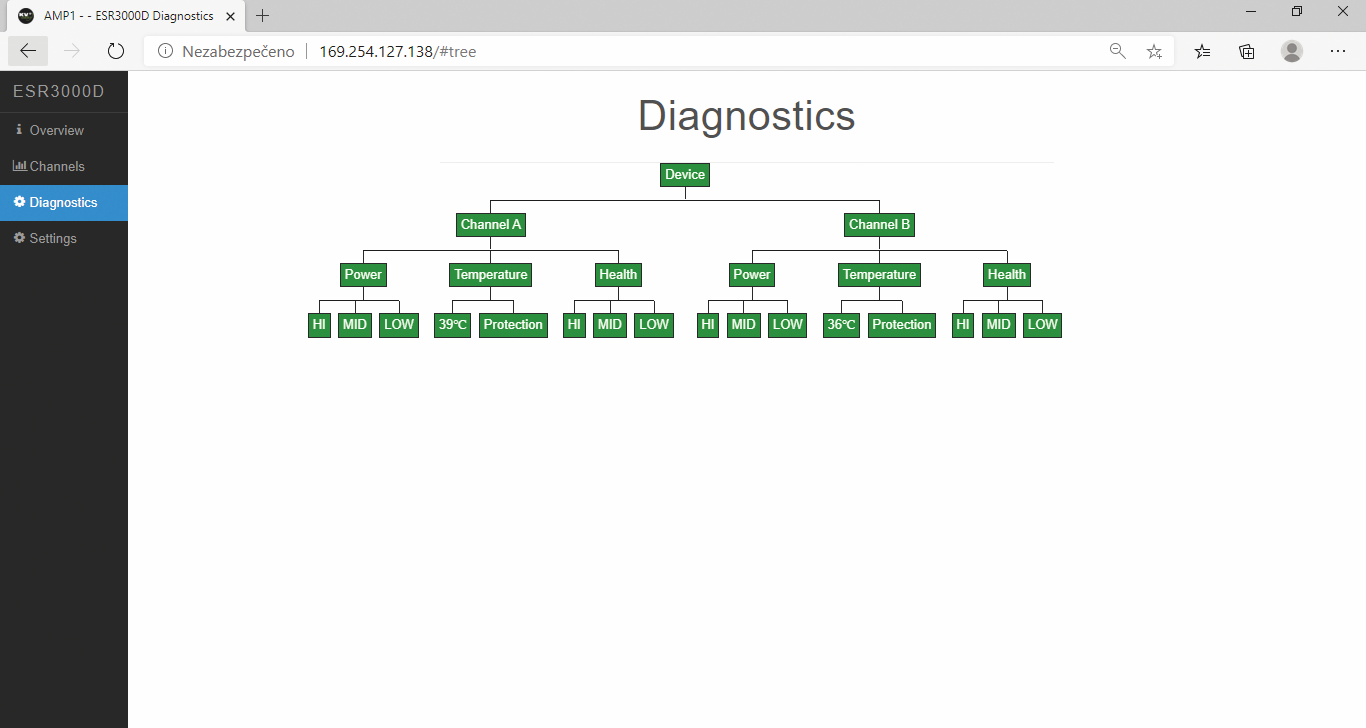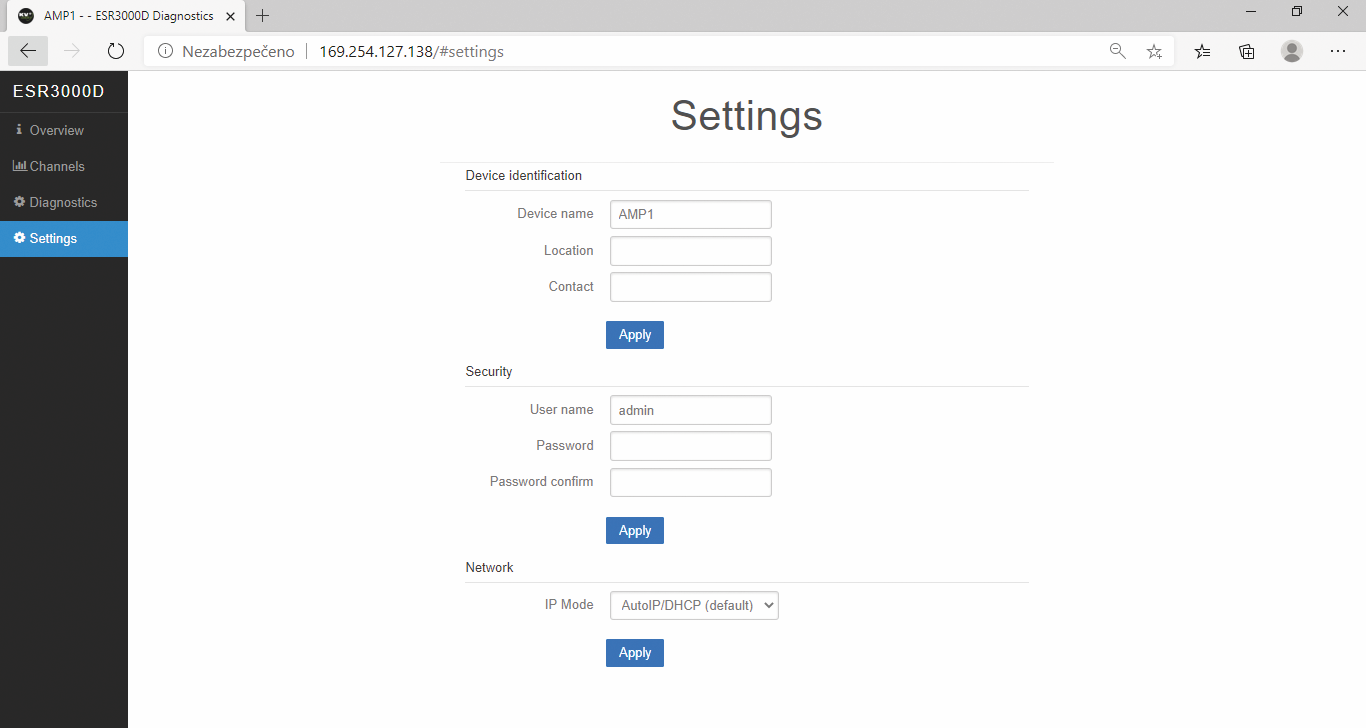 ESP2000D